Do you have someone on your list who lives and breathes music?? Are they fans of the local music scene or are they in a band? Maybe they would enjoy the HOT 17--a locally published annual book about the great Columbus' music scene. It is published by Peridosia Publishing. 2010-2011 is available for $17, and the 2009-2010 version is only $7. Pick up a copy in store only at What the Rock?!
They may also enjoy reading about the fascinating lives of rock stars in books such as "Life" by Keith Richards, "Hey Ho Let's Go..the story of The Ramones", "The Dark Stuff--selected writings on rock music by Nick Kent" or "Please Kill Me--The Unauthorized Oral History of Punk." All of these books make fascinating reads, and contain great pictures. They may be available on Kindle, but a book is waaaaayyy cooler and also more portable. "Please Kill Me" is unavailable on Kindle--because it is punk rock like that. These are all available on our website, and many others are available in store.
Music fans may enjoy this lovely Tom Waits necklace--handmade in Seattle by Fable and Fury. Available in our store or on Fable and Fury's etsy store...
Or perhaps they would like this awesome guitar pick bracelet--a What the Rock?! original. Available in store and also on our etsy page...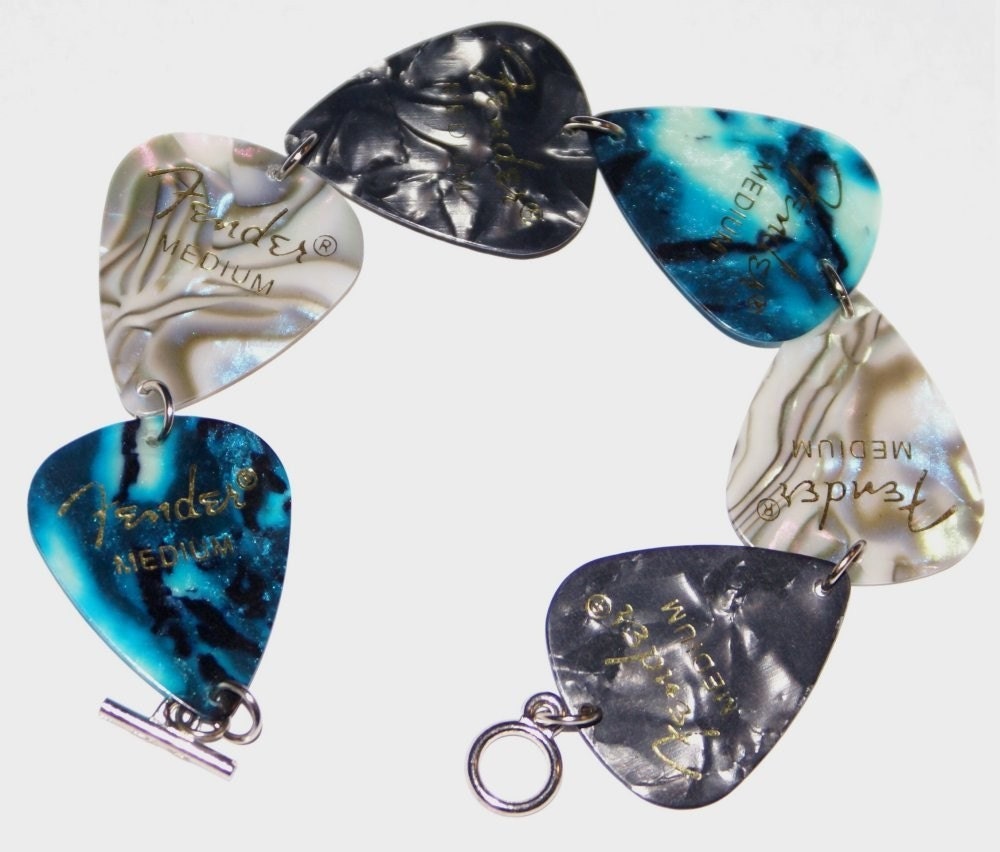 For musicians, especially guitar players, we have lots of in-store and website options. Strings, straps, slides, tuners, capos, picks, and effects pedals will all make them a happy camper. Here are some of the best selling and most popular musician accessories...
Clip on bass/uke/guitar tuner and light up skull guitar/bass tuner
vinyl sparkle guitar strap--in red, blue or silver!
Martin acoustic guitar strings. We also carry D'addario, Fender and Dunlop electric guitar strings, uke and bass strings.
Collectible picks of all sorts. You always need picks!!
These monster pick holders screw onto your tuning peg. Available in skull, devil, or Frankenstein!
Slides are always a fun accessory for a guitar player.
We haven't forgotten the drummers--we have some drumsticks for them, too!! Other percussion instruments include egg shakers, wood blocks, and rythym sticks.
We also have ukuleles for those who want to learn to play an instrument. We have a build your own kit as well as assorted colors of wooden ukes with matching carrying bag and felt uke picks!!
And a variety of fun instruments for your listening and playing pleasure.....
For kids of all ages as well as adults in bands looking for fun instruments to add to the mix!!
These Jam Band glass ornaments will ensure your tree is rockin'...
Have a rock and roll Christmas!!!!